Architect Series® – Traditional Wood Clad
Exquisite detail and exceptional design possibilities.
Stunningly beautiful craftsmanship.
The authentic, long-lasting beauty of wood.
Wide range of sizes, shapes, grille patterns, wood types and finishes.
Available with triple-pane glass for exceptional energy efficiency.
Download Features & Options
Available Architect Series Traditional Windows and Patio Doors:
Awning Window

Casement Window

Double-Hung Window

Single-Hung Window

Hinged Patio Door

Sliding Patio Door

Bifold Patio Door

Multi-Slide Patio Door
Why Choose Architect Series – Traditional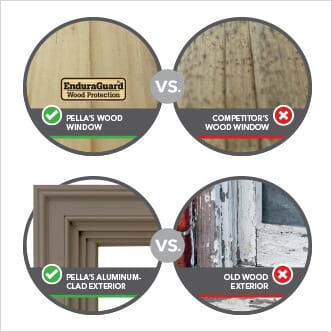 The Next Generation of Wood is Here
Enhanced to last, Pella's wood windows and patio doors provide unparalleled beauty, design flexibility and strong protection against the elements with three key features:
Pella EnduraGuard® Wood Protection provides advanced protection against the effects of moisture, decay, stains from mold and mildew — as well as termite damage.
Pella EnduraClad® low-maintenance exterior finish features an aluminum-clad exterior that resists fading and stays looking great for years. Optional decorative trim and brickmould also available.
AdvantagePlus® Protection System stands up to the elements so your Pella patio door can stay looking great longer.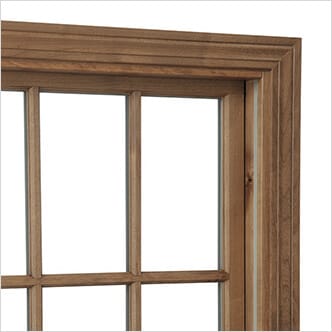 Exquisitely Detailed Wood Windows and Patio Doors
Distinctive, fine-furniture detailing.
Matching, beautifully detailed sash and grille profiles inside and out — adds drama and architectural interest to your home, inside and out.
Pella's most authentic look of individual windowpanes with Integral Light Technology® Grilles with non-glare spacer.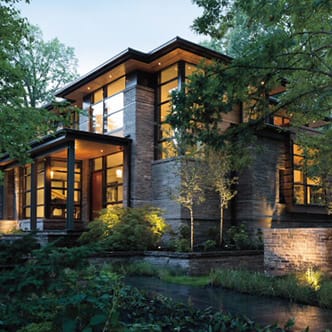 Beautifully Energy Efficient
Exceptional energy efficiency.
Pella Architect Series windows with triple-pane glass are 52% to 78% more energy-efficient than single-pane windows.1
Pella Architect Series windows and patio doors offer the energy-efficient options that will meet or exceed ENERGY STAR® certification in all 50 states.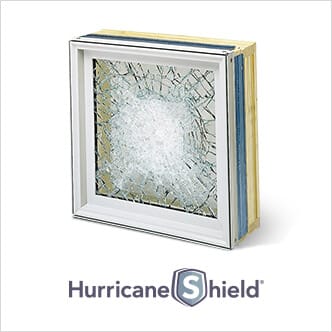 Helps Protect What You Value Most
Architect Series products with impact–resistant glass.2
Helps prevent damage and injury that can be caused by wind, water and debris entering your home.
Dramatically reduces outside noise like traffic and lawn mowers.
Provide added protection against intruders and forced entry — the glass interlayer cannot be easily penetrated, even if the glass is shattered.
Warranty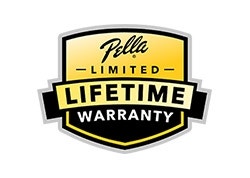 The Best Limited Lifetime Warranty for Wood Windows and Patio Doors3
Pella® wood windows and patio doors are backed by one of the best warranties in the business. See written warranty for complete details, including exceptions and limitations.
Download
1 Improved window energy efficiency calculated in a computer simulation using RESFEN 5.0 default parameters for a 2,000 square-foot existing single-story home when comparing a Pella Architect Series wood window with InsulShield® Advanced Low-E triple-pane glass with argon to a single-pane wood or vinyl window, For more details, see pella.com/methodology.
2 Pella's impact-resistant glass in HurricaneShield products is made up of a sheet of standard or tempered glass combined with a sheet of laminated glass. For best performance, the laminated glass may be in the interior or exterior pane of insulating glass, depending on the product.
3 Based on comparing written limited warranties of leading national wood window and wood patio door brands. See Pella written limited warranty for details, including exceptions and limitations, at installPella.com/warranties, or contact Pella Customer Service at 877-473-5527.